As a photographer of the urban landscape, I rely almost exclusively on available light, and the light that is available inside an old building is usually far from ideal. In order to tell the story of the urban landscape, I have had to to find ways to compensate for the light that is available to me.
My camera is a Canon 5D (full-frame sensor), and my principal lens is Canon's 24-105mm f/4L IS EF USM AF. Additionally, I use a Canon EF 70-200mm f/2.8L IS II USM. When added reach is needed I use the Canon Extender EF 2X III. My software includes Adobe Lightroom and Photoshop CS5, and the full suite of NIK applications (Define 2.0, Viveza 2, HDR Efex Pro 2, Color Efex Pro 4, Silver Efex Pro 2 and Sharpener Pro 3.0.
All images are Camera RAW. Most of my images range from a few seconds to many seconds in length. In order to achieve the maximum detail across the full dynamic range I make multiple (between 3 and 7) bracketed exposures. This assures that detail that would otherwise be lost in highlight or shadow areas of the image are present in the finished photograph.
The series of exposures (above) was made using the telephoto zoom lens at a focal length of 200mm. All images in the series were at f/11, with an ISO of 100. The exposures were at 10 sec, 2 sec, and 0.6 sec respectively. When I return from a shoot I import and tag all of my images in Lightroom. I then export each image set (3 to 7 bracketed exposures) to NIK HDR Efex Pro 2, and return the tone-mapped HDR image to Lightroom as a .TIF file. (Time permitting, I will publish a key-stroke by key-stroke, mouse-click by mouse-click Blog post for those who would like to get under the hood of my workflow.) Once all of the images have been tone-mapped and returned to Lightroom, I apply the appropriate lens correction profile.
One by one I export each HDR file to Photoshop and apply straightening and perspective correction as needed. I have all of the NIK plug-ins installed in Photoshop, so the image will not be returned to Lightroom until it is ready to be printed or posted to the Web.
Color Efex Pro 4. NIK has introduced a delicious feature called "recipes," which allows me to perform three functions – levels and curves, lightening and darkening, and contrast adjustments, at once. The settings of each of the three functions are starting points, and I can make localized adjustments as appropriate to the image. If needed, I can use Color Efex Pro to adjust color cast, and perform a myriad of other adjustments as well. I could do some of this work in HDR Efex Pro, but I find it easier to do it in Color Efex Pro.
I then use the Viveza plug-in to make lighting adjustments, either globally or locally as required.
To give the colors "pop," I use Silver Efex Pro to create a black and white overlay layer to which I apply about a 20% opacity.
Finally, before saving the finished image (with a discreet file name) I use Sharpener Pro to bring any necessary sharpening to the image, although I reserve serious sharpening for the printing process.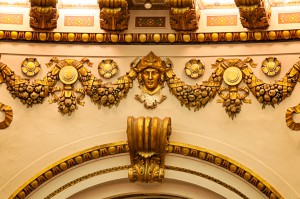 My work is 99% black and white, so the final step is to convert the finished image to black and white, using Silver Efex Pro. In order to give additional "pop" to the black and white image I isolate the highlights in the RGB channel, creating an overlay layer to which I apply about a 30% opacity before saving the image (again using a discreet filename) and closing Photoshop.
When I return to Lightroom, the original HDR image and the finished color and black and white versions are waiting for me.
The entire process generally takes less than 10 minutes!
Once again, this has been an overview of my workflow. I will post key-stroke by key-stroke, mouse-click by mouse-click detail, as time permits. The images used here are a part of my series of posts on the Renovation of Cleveland Trust Rotunda.
I look forward to your comments and hope that you will subscribe to this Blog to receive email notification of future posts as I document the history and the renovation of one of Cleveland's incredible landmarks.