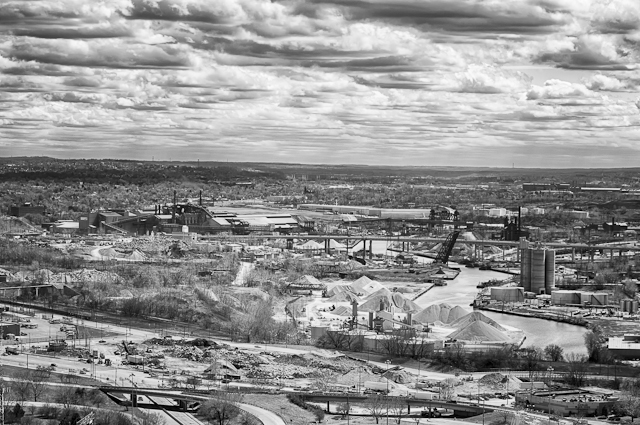 The Cleveland Flats, the broad, low-lying land on either side of the Cuyahoga River, once inhospitable to the city's settlers, became a sea of steel mills and chemical plants. Day and night, flames and smoke filled the air. Homes on the bluffs above the Flats were stained with the effluence of industry. At one time the Flats was home to John D. Rockefeller's Standard Oil Company. Later, to Republic Steel, Jones and Laughlin Steel, and American Steel and Wire. Today the remaining mills are part of ArcelorMittal USA.
The centerpiece of Cleveland's skyline is the 52 story, 708 foot tall Union Terminal Tower. When the complex opened in 1930, the Terminal Tower was the tallest building in North America outside of New York City, and held that status until the completion of Boston's Prudential Tower in 1967. Terminal Tower remained the tallest building in Cleveland until the 947 foot, 57 story Key Tower was opened in 1991.
Union Terminal was built by Otis and Orin Van Sweringen at the peak of railroad travel. The New York Central, Nickel Plate, Big Four, Erie, and Baltimore and Ohio used the Terminal. The tower contained offices and the complex included the Hotel Cleveland (built in 1918), now the Renaissance Cleveland Hotel, and Higbee Company department store, now the home of Cleveland's Horseshoe Casino. The complex also includes the Guildhall, Republic, and Midland buildings, now Landmark Office Towers. At the time of it's construction, the excavation was second only to the Panama Canal.