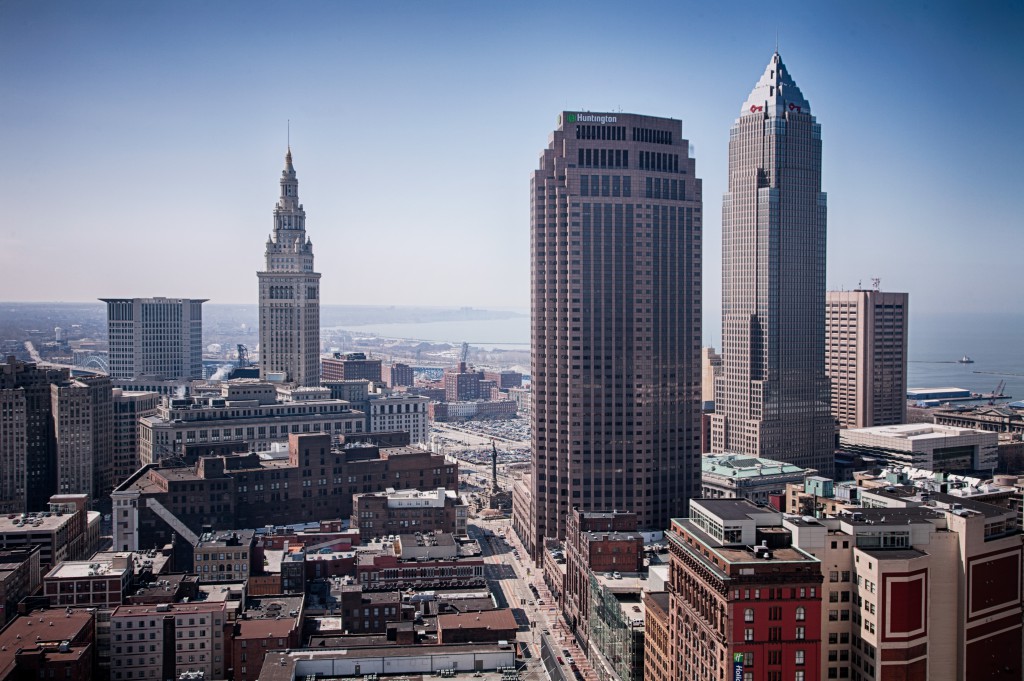 This view of downtown Cleveland was made from on top of the Breuer Tower.  Adjoining the Cleveland Trust Rotunda, the tower was designed by Marcel Breuer and built in 1971. The 29 story tower is now a part of the major renovation project bringing new life to Euclid Avenue and East 9th Street.
Left – The Terminal Tower, built by the Van Sweringen brothers in 1930, at 52 stories (708 feet), was the tallest building in the world, outside of New York City, until 1953, and in the U.S. until 1967 when the Prudential Center was built in Boston. The excavation project for the creation of the Union Terminal complex was second only to that of the Panama Canal.
Center – The Huntington Bank Building (45 stories, 658 feet) was built as the SOHIO Building (Later renamed BP Building) in 1985.  It was the object of much controversy when the original design was for a building taller than the iconic Terminal Tower.
Right – Key Tower, built in 1991 (63 stories, 888 feet to the top of the crown) is the tallest in Cleveland and the State of Ohio, and the 18th tallest building in the U.S. Built as the corporate headquarters of Society National Bank, it is the headquarters of Key Corp, after Society's merger with Key Bank.
If you look closely just to the left of the Huntington Bank Building you will notice a parking lot on the west side of Public Square. That is the footprint of what was to have been the nearly 1,200 foot (more than 60 stories) AmeriTrust corporate headquarters, but the project was scrapped when the bank was acquired by Society National in 1991.
Below is the same image in black and white. Which do you prefer?
I look forward to your thoughts and comments.