Cleveland Trust Company was founded in 1894, with John G. W. Cowles as its first president. In 1903, Cleveland Trust merged with the Western Reserve Trust Co., and Calvary Morris succeeded Cowles as president. Quickly outgrowing their offices, construction on a new headquarters building, designed by architect George B. Post (1834-1913) began in 1905.
The magnificent stained glass is often attributed to the Tiffany Studios, although there is no documentation to support that belief.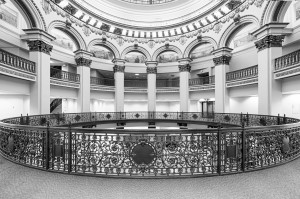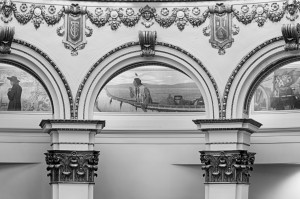 The Rotunda features the sculpture work of Karl Theodore Francis Bitter (1867-1915), and murals painted by Francis Millet (1848-1912), depicting scenes of the development of civilization and wealth in the Midwest.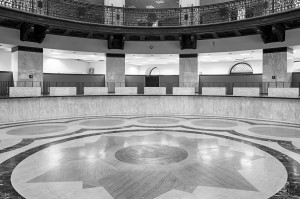 In the coming months, the Rotunda and the adjoining 1010 Euclid Building will undergo historic renovation. The 29-story office tower designed by Marcel Breuer (1902-1981) and opened in 1971 will be renovated, and two additional buildings adjacent to the tower on its south, that were once a part of Cleveland Trust complex, will be demolished to make way for the new Cuyahoga County Administration Building.  Each step of the way will be documented on this blog. Be sure to subscribe to receive email notification of new posts.